---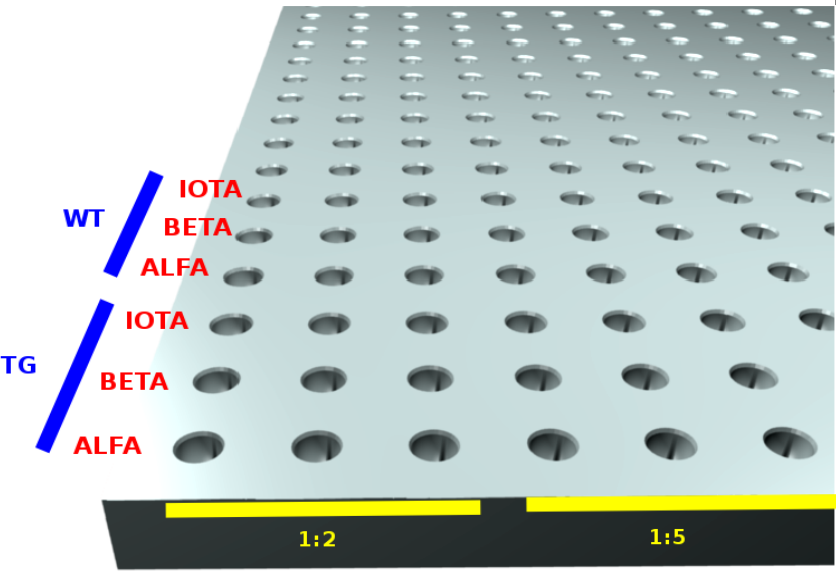 Calculating Differential Gene Expression through qPCR
This free RTPCR/qPCR Calculator takes as input a tab separated file (CSV) and calculates the up and down-regulation of genes between two samples using the ΔΔ-CT method, as explained in this lecture.
What is reported ?
The calculation comprises the following steps:

cleaning up the input data, thereby removing all CP/CT values that are non-numerical (E.g, empty entries, bracketed entries [21], or cycles larger than 40).
estimating the qPCR/RTPCR efficiencies for each Gene/Cell combination based on all measured dilutions and normalizing all CP/CT values to an efficiency of 100%
calculate the Δ-CT values from each gene to all listed household genes.
calculate the ΔΔ-CT values between all cell types (e.g: between Normal and siRNA)
report on the up-/down-regulation ratios and on the efficiencies of the qPCR.

An example of such a report is given below. In this experiment, a large number of groups have been rejected due to very uncertain dilution series. The remaining groups have been reported in the Up/Down regulations table.
Up/down regulations

| | | | | | | |
| --- | --- | --- | --- | --- | --- | --- |
| Household | Gene | From | To | Direction | Ratio | Log(ratio) |
| GADPH | TPM4 | siRNA | Normal | Up | 1.37929 | 0.463925 |
| GADPH | TAF9 | siRNA | Normal | Down | 3.54528 | -1.8259 |
| GADPH | TAF1B | siRNA | Normal | Up | 1.72315 | 0.78505 |
| GADPH | TAF15 | siRNA | Normal | Up | 3.97223 | 1.98995 |
| GADPH | NRG1 | siRNA | Normal | Up | 9.31496 | 3.21955 |
| GADPH | MBTPS2 | siRNA | Normal | Up | 2.44575 | 1.29028 |
| GADPH | HIF1A | siRNA | Normal | Down | 1.35973 | -0.443325 |
| GADPH | BCHE | siRNA | Normal | Down | 1.20226 | -0.26575 |
| BCHE | TPM4 | siRNA | Normal | Up | 1.65827 | 0.729675 |
| BCHE | TAF9 | siRNA | Normal | Down | 2.94885 | -1.56015 |
| BCHE | TAF1B | siRNA | Normal | Up | 2.07168 | 1.0508 |
| BCHE | TAF15 | siRNA | Normal | Up | 4.77566 | 2.2557 |
| BCHE | NRG1 | siRNA | Normal | Up | 11.199 | 3.4853 |
| BCHE | MBTPS2 | siRNA | Normal | Up | 2.94043 | 1.55602 |
| BCHE | HIF1A | siRNA | Normal | Down | 1.13098 | -0.177575 |
| BCHE | GADPH | siRNA | Normal | Up | 1.20226 | 0.26575 |

Efficiencies

| | | | |
| --- | --- | --- | --- |
| Cell | Gene | Average Efficiency | Comment |
| Normal | BCHE | 105.841 | Accepted group |
| Normal | FOS | 170.712 | Rejected group |
| Normal | GABARAP | 121.973 | Rejected group |
| Normal | GADPH | 91.5267 | Accepted group |
| Normal | GTF2B | 133.654 | Rejected group |
| Normal | HIF1A | 92.6202 | Accepted group |
| Normal | LZIC | nan | Rejected group |
| Normal | MBTPS2 | 95.3834 | Accepted group |
| siRNA | BCHE | 111.697 | Accepted group |
| siRNA | FOS | 191.324 | Rejected group |
| siRNA | GABARAP | 146.561 | Rejected group |
| siRNA | GADPH | 97.6546 | Accepted group |
| ... | ... | ... | ... |
| siRNA | MBTPS2 | 93.8257 | Accepted group |
| siRNA | NEFH | 326.86 | Rejected group |
| siRNA | NMU | 70.5202 | Rejected group |
| siRNA | NRG1 | 97.0566 | Accepted group |
| siRNA | TAF15 | 110.147 | Accepted group |
| siRNA | TAF1B | 89.7493 | Accepted group |
| siRNA | TAF6 | 129.888 | Rejected group |
| siRNA | TAF9 | 97.1325 | Accepted group |
| siRNA | TPM4 | 111.765 | Accepted group |
---
The qPCR Up/Down Ratio Calculator - http://analysis.yellowcouch.org/qpcr/